We enjoy having Family Movie Night, with dinner, popcorn or just pjs and blankets. The newest adventure from Disney Junior has been released and is ready for you to take home and enjoy. This DVD, features five new episodes and is packed with laughs, music, beloved characters and heart, The Lion Guard: Life in the Pride Lands is a must-own for the entire family! Bring home this heroic adventure on Disney DVD today.
Here is a sneak peek:
LION GUARD LIFE IN THE PRIDE LANDS- "Kupatana"
LION GUARD LIFE IN THE PRIDE LANDS- "Honey Badger Rides the King"
Disney's adventure The Lion Guard continues with Simba and Nala's (from the classic The Lion King) second-born cub, Kion, and his Lion Guard team as they protect the Circle of Life. Follow our group of unlikely heroes: Bunga the honey badger, Fuli the cheetah, Beshte the hippo and Ono the egret.
Join this heroic band as they use their unique abilities to maintain the Pride Lands and the Circle of Life. This series also features Simba, the spirit of Mufasa and the hilarious antics of Timon and Pumbaa.  You'll go wild for all the ferocious fun, because whether the Lion Guard team is tracking a rogue leopard, foiling tricky jackals or facing stubborn crocodiles, Life In The Pride Lands is always "hevi kabisa" – totally intense!
Can't get enough of The Pride Lands? You're in luck!
Bonus: Five FREE Exclusive Silicone Bracelets!
Join Kion and His Friends on their Adventures in the Pride Lands as they Learn Lessons of Leadership, Teamwork and Trust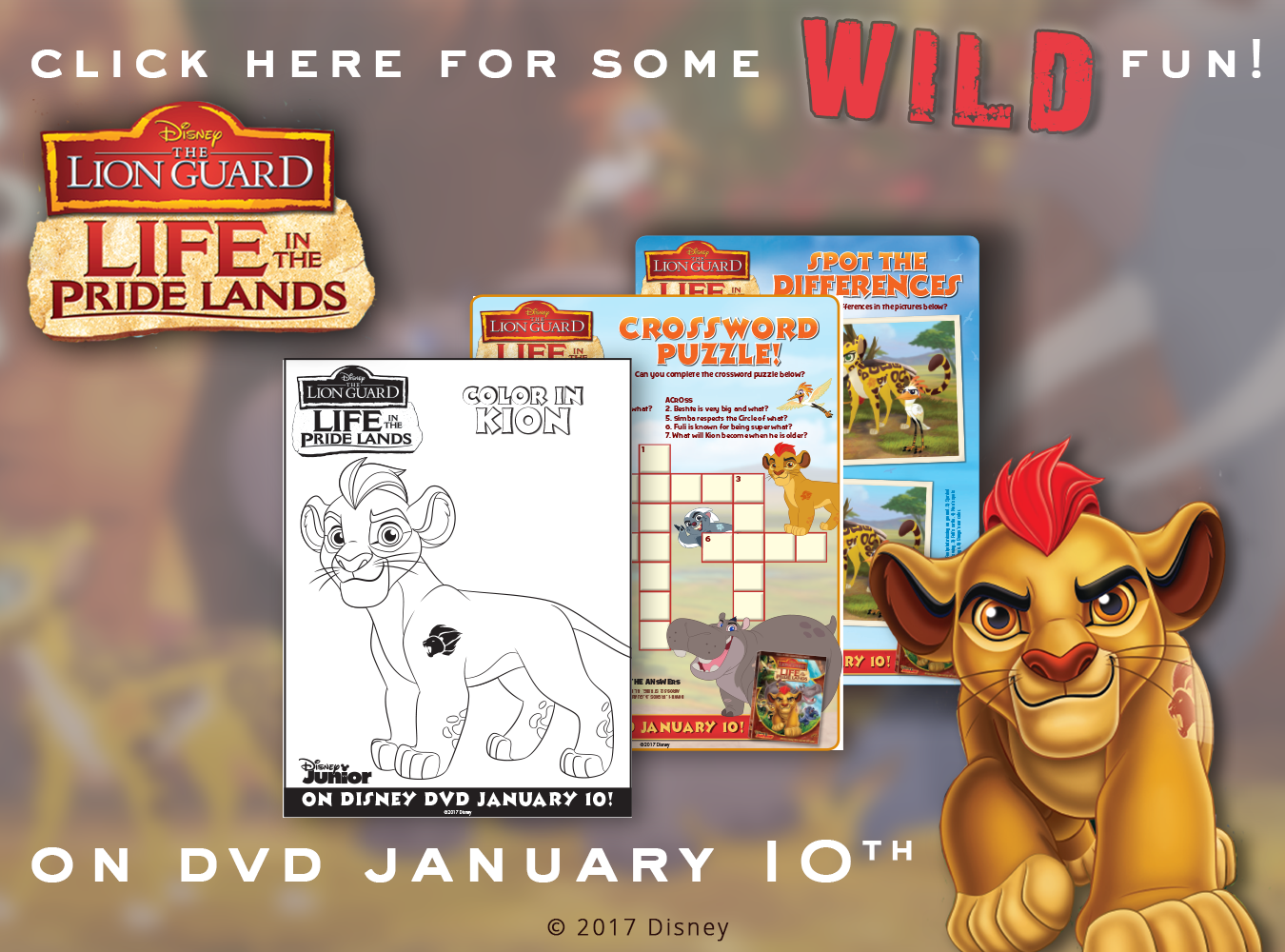 Click HERE for more activities, and a peek behind the microphone to see all the talent behind the voices of your favorite Lion Guard characters!
Have a roaring good time watching Kion and his friends stomp around the Pride Lands and learn about life together.
© 2016 Disney